International Criminal Defense Attorney
Michael Griffith's, Profile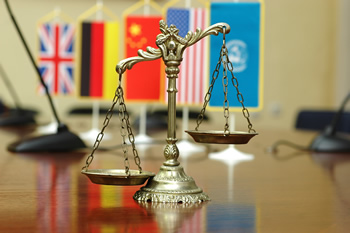 Likewise, Mr. Griffith brought to the world´s attention at the international Bar Association conference in Sydney, Australia, Japan´s involvement with the illegal use of prison labor for the benefit of private companies. His discovery that fifty four American prisoners along with prisoners from twenty other countries are being made to work eight hours a day, five days a week, in violation of international law, has led to worldwide press coverage and his instigation of congressional hearings before a House Foreign Affairs Subcommittee who has deplored this practice. He then traveled to numerous countries whose citizens were similarly incarcerated in Japan, and held press conferences with members of the Criminal Law Committee of the International Bar association, to get the governments of those individual countries to protest to Japan about the use of their nation´s prisoners subjected to this deplorable practice.
Mr. Griffith contacted the officials of each of the private companies that he discovered were benefiting from the use of prison labor and threatened them with legal action if they did not discontinue this practice. He was successful in getting companies to voluntarily stop their use of it.
Michael Griffith traveled to Bangladesh at the request of Bangladeshi lawyers to look into and report on the effects of the Special Powers Act, which permits individuals to be detained without probable cause or warrant by the authorities for up to a period of six months. He met with members of Parliament, the Minister of Justice, and the former Prime Minister in order to convince the government to abolish this illegal practice. He has since communicated his concerns to officials of the International Bar Associations Human Rights Institute to make Bangladesh the target of a possible intervention.
His other most notable cases involved the representation of Ted Maher, the defendant in the death of billionaire Edmond Safra, in Monaco, the US Marine defendants in the Okinawa rape case and the defendant in the Tortola murder case.
He is presently or has been a member of:
The Criminal Law Committee of the International Bar Association
Nassau County (New York) Criminal Courts Bar Associatio
New York State Association of Criminal Defense Lawyers
The Suffolk County (New York) Bar Association
The Inter-American Bar Association
The International Association of Prosecutors
Contact Michael J. Griffith for more information concerning international criminal representation today.
Michael J. Griffith – International Criminal Defense Attorney
Email: michaelgriffithlawyer@gmail.com
Tel: 917-748-7246 • Fax: 631-267-3626
P.O. Box 796 • Amagansett, N.Y. 11930